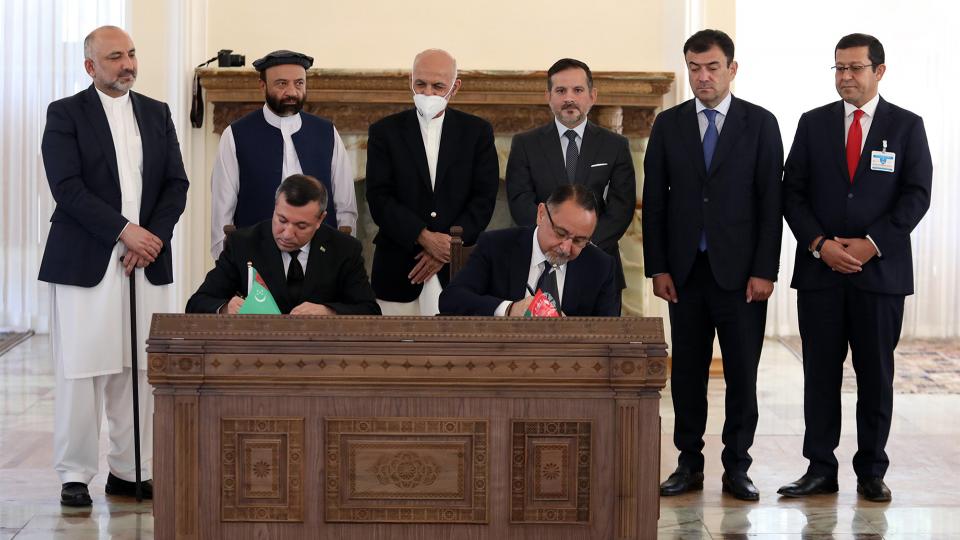 Bayat Energy has signed an agreement with the Government of the Islamic Republic of Afghanistan to facilitate the transfer of 500 MW of electricity from Turkmenistan to Afghanistan and also to connect a fiber optics network.
The agreement, which was signed in conjunction with a Turkmen company named Chalak Private Company, was sealed at a ceremony at the Presidential Palace in Kabul on September 30, 2020 and attended by Afghan President Ashraf Ghani.
During the signing ceremony, President Ghani thanked Bayat Energy for its cooperation.
"Thanks to the presence of Bayat Group and Chalak Private Company, it shows that Afghan and international private companies have joined hands to provide electricity," President Ghani said.
"Fiber optics is the infrastructure of the 21st century and this infrastructure gives hope to our youth. Innovative work in the 21st century is impossible without a comprehensive understanding of fiber optic networks, connectivity and modern technology," President Ghani added.
ABOUT BAYAT ENERGY
Bayat Energy is Afghanistan's leading Afghan-owned Energy Exploration, Development and Power Production Company. Founded by Dr Ehsanullah Bayat, the Chairman of The Bayat Group, Bayat Energy is a division of The Bayat Group of companies, which include Afghan Wireless (www.afghan-wireless.com) Ariana Television and Radio (www.arianatelevsion.com), and additional Construction, Consumer and Logistics Enterprises. Learn more about how Bayat is building an Afghan domestic generation industry, which will provide affordable, accessible, and environmentally clean power to the Afghan people by visiting our website: www.bayatpower.com.