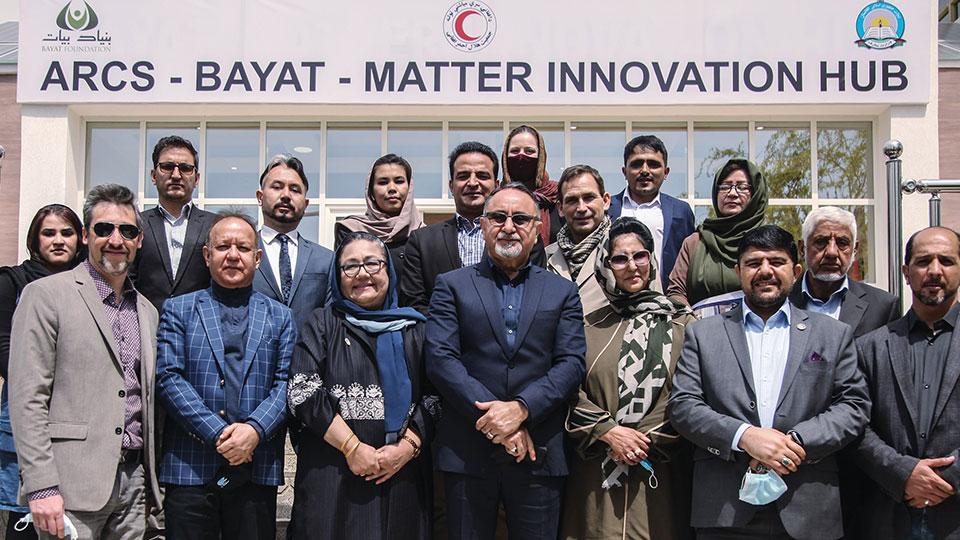 TRANSFORMING EDUCATION THROUGH TECHNOLOGY: THE BAYAT FOUNDATION INNOVATION HUB WELCOMES FIRST CADRE OF STUDENTS TO BE TRAINED AS FUTURE GENERATION OF AFGHAN TECHNOLOGY LEADERS
Kabul, Afghanistan — April 12, 2021 — Continuing its long support of expanding access to high-quality education for young Afghan students, The Bayat Foundation (www.bayatfoundation.org), Afghanistan's largest private philanthropic organization and member of The Bayat Group (www.bayat-group.com) welcomed the first cadre of students to an innovative new technology education project at the Michelle Bayat School on the grounds of the Afghan Red Crescent Society in Kabul on April 10, 2021.
Dr. Ehsan Bayat, Chairman of The Bayat Foundation, formally opened the Innovation Hub at a ceremony on Saturday, April 10, alongside Ms. Nelab Mubariz, General Director of the Afghan Red Crescent Society; Mr. Jeremy Newhouse, Senior Vice President of MATTER; and Dr. Dave Saltmarsh, Global Education Specialist of Jamf.
The Bayat-MATTER Innovation Hub is a 21st-century classroom that promotes critical thinking, creativity, and leadership development using robotic balls, drones, and physical and virtual coding blocks, while also incorporating literacy and math. The Innovation Hub will inspire students to become better prepared for an increasingly technology-driven world that demands teamwork, flexibility, and curiosity.
As Dr. Bayat remarked: "The Innovation Hub's mission is to transform education through technology and create a sense of curiosity, wonder, and passion for lifelong learning amongst our youth. Working alongside our great partners at Afghan Red Crescent Society, MATTER, and Jamf, we wish to do our small part in helping further develop a new generation of students, teachers and educational leaders who recognize and emphasize the importance of creating the conditions for inclusion, involvement, discovery, and invention rather than merely providing ready-made knowledge."
The Bayat-MATTER Innovation Hub will be deployed in partnership with Afghan Red Crescent Society, Teach for Afghanistan (www.teachforafghanistan.org), MATTER (www.matter.ngo), Jamf (www.jamf.com), and the Michelle Bayat School.
About the Bayat Foundation:
Since 2005, the US-based Bayat Foundation, a 501 c (3) charitable organization, has promoted the well-being of the Afghan people. Founded and directed by Ehsanollah Bayat and Fatema Bayat, the Foundation has contributed to more than 300 projects dedicated to improving the quality of life for the youth, women, poor, and elderly of Afghanistan; including construction of 14 maternity hospitals that have now treated over 3,000,000 mothers and babies.
Projects have included the construction of new facilities and sustainable infrastructure in needy regions, and the promotion of health, education, economic, and cultural programs. In addition to his charitable initiatives, Ehsanollah Bayat founded Afghan Wireless (AWCC) in 2002, which was the first GSM wireless and Internet Service Provider in Afghanistan, and later established Ariana Radio and Television Network (ATN), which includes Ariana Radio (FM 93.5). For more information, please email info@bayatfoundation.org.